Engineering
 
At this stage we already cover all engineering capabilities from fundamental method planning and simulations to the complete design. Our experienced engineers and technical draughtsmen as well as our optimal technical prerequisites enable us to realise the most individual solutions.
Machining Centre
Our machining centre at Dr.-Haug-Strasse 4 was constructed in 2015. On a production area of over 1,600 m², we operate a highly modern and extensive machine fleet for the most sophisticated productions.
Quality Assurance
Our certified quality assurance guarantees a highly precise procedure during the manufacturing of the tool components and a later tryout. 
Amongst others, we have 5-axis head 3D measuring machines and 3D digitisers at our disposal. Our quality management system is certified in accordance with DIN-ISO 9001: 2008. 
Try-out
 
Our extensive and individually customer-optimised try-out options guarantee the optimum transition to series-production-ready tools. With our existing presses, up to 15000 kN, we have the technical prerequisites to try out tools up to 6000 x 2000.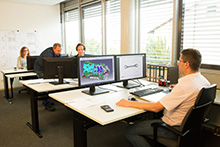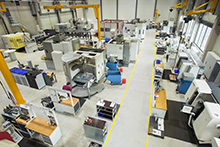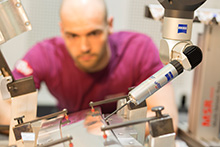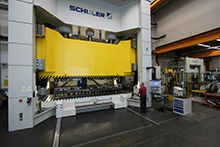 | Quantity | Machine |
| --- | --- |
| 1 | Console milling machine, UNION, KF 5.2, Working range 330 x 970 |
| 1 | Console milling machine, Reckermann, KOMBI 1300, Working range 1200 x 500 |
| 1 | Universal milling machine, Deckel, FP 4 A, Working range 580 x 900 x 480, 3D continuous path control Dialog 11 |
| 1 | High-speed machining centre, Deckel-Maho, type DMC-70V, working range 700 x 550, 30x tool changer, 3D continuous path control Dialog 112 |
| 1 | CNC universal milling machine, Hermle, type U630T, working range 630 x 500, 16x tool changer, control TNC 426 |
| 2 | High-speed machining centres, Deckel-Maho, type DMC-100V hi-dyn, working range 1000 x 800, 30x tool changer, 3D continuous path control iTNC 530 |
| 2 | 5-axis milling machine, Deckel-Maho, type DMU-100T, working range 1070 x 710 x 710, max. tool size with 5-axis machining: ø 630 x 400 high, 30x tool changer, 5-axis continuous path control iTNC 530 |
| 1 | 5-axis high-speed machining centre, Deckel-Maho, type DMC 105 V linear, working range 1050 x 800 x 560, max. tool size with 5-axis simultaneous machining: ø 850 x 500, all axes with linear drives, axis acceleration 2g, 30x tool changer, continuous path control iTNC530 |
| 1 | Machining centre, Hedius, type C60 Magnum, working range 2500 x 600, 56x tool changer, CNC continuous path control iTNC 530, shuttle table machining |
| 1 | Machining cell consisting of a 5-axis machining centre Hermle C42 U, working range 800 x 800 x 550, 232x tool changer, CNC controller iTNC 640 and robot cell RS2, 60 pallet spaces, load-bearing capacity 250 kg |
| Quantity | Machine |
| --- | --- |
| 1 | CNC cycle controlled lathe, centre height 200, turning length 950, Weiler, type E35, control Sinumerik 810 D |
| 1 | CNC lathe, Gildemeister, type CTX 410, max. tool size ø 400 x 550, powered tools |
| 1 | Centre lathe, centre height 160, turning length 650, Weiler Praktikant VC |
| 1 | CNC cycle controlled lathe, centre height 650, turning length 1500, DMT-Kern CD650, controller: Heidenhain MANUAL Plus 620 12x revolver, Weiler |
| 1 | CNC lathe Gildemeister CTX 800 Beta, max. tool size ø400 x 500, powered tools and Y axis |
| Quantity | Machine |
| --- | --- |
| 1 | Die-sinking EDM, Charmilles, ROBOFORM 200, Working range 220 x 320, generator power 64 A electrode changer, 4-axis continuous path control |
| 1 | Die-sinking EDM, Mitsubishi, EA 28V, Working range 650 x 450, work basin 1010 x 750 x 350, Generator power 128 A, electrode changer, 4-axis continuous path control |
| 1 | High-precision wire EDM, Charmilles, ROBOFIL 4020, Working range 420 x 315, repeat accuracy ±1.7 µm, Reachable surface Ra 0.15 |
| 1 | Wire EDM, AGIE, type Challenge 3, working range 500 x 350 |
| 1 | Wire EDM, Charmilles, type Robofil 690, working range 800 x 600, max tool size 1300 x 1000 x 400, max. tool weight: 2000 kg |
| 1 | Wire EDM, AGIE, type Challenge V3, working range 500 x 350 |
| 1 | Wire EDM, AGIE, type Progress 4, working range 800 x 550, tool height 550, tool weight 3000 kg |
| 1 | Start hole drilling system, AGIE, type Drill 11, electrode diameter 0.5 – 3mm, machining depth up to 200 mm, X, Y, Z traverse paths 300 x 200 x 300 mm, tool weight: 300 kg |
| Quantity | Machine |
| --- | --- |
| 1 | Universal cylindrical grinder, Kellenberger, URF 320, centre height 320, grinding length 800 |
| 1 | Universal cylindrical grinder, Kellenberger, U1000/175, centre height 175, grinding length 1000, Machine with special precision: Runout <0.0002 mm |
| 1 | CNC surface grinder, G+H, type FS 1260 GT-SL, Working range 1200 x 600, grinding height 700, Siemens CNC controller, creep feed grinding system |
| 1 | Surface grinder, JUNG, JF 520 E, Working range 200 x 600 |
| 1 | CNC surface and profile grinder, G+H, type FS 635 Z CNC, Working range 600 x 350, 3D continuous path control Siemens 840 D creep feed grinding system |
| 1 | CNC surface grinder, G+H, type FS 650 GT-SL, Working range 600 x 500, grinding height 470, Siemens CNC controller, creep feed grinding system |
| Quantity | Machine |
| --- | --- |
| 1 | Water jet cutting machine, OMAX, model 55100, working range 3200 x 1650 mm, X, Y, Z traverse paths 2500 x 1395 x 200 mm, tool weight: 1200 kg/m² |
| Quantity | Machine |
| --- | --- |
| 1 | Laser labelling machine, Electrox Scorpion Rapide2 |
| 1 | Band saw, Meba Eco 410, working range 450 x 710 |
| 1 | Band saw, Behringer, working range 330 x 500 |
| 1 | Honing machine, Sunnen, MBB 1690 G |
| 1 | Rapid radial drilling machine, HKS 40 F |
| 1 | Rapid radial drilling machine, Gillardon GSR 32 |
| 1 | Plate shear, H & M, cutting power 2000 x 3 |
| Quantity | Machine |
| --- | --- |
| 1 | Hydraulic synchronous try-out press, Ageo, type GHP125, pressing force: 125 tons, table size 1000 x 700, stroke 500, die cushion |
| 1 | Hydraulic drawing press, Dunkes, type HZ 63, pressing force 63 tons, table size 620 x 520, stroke 400, die cushion |
| 1 | Hydraulic frame press, Dunkes, type HD 400, Pressing force 400 tons, table size 2100 x 1000 resp. 2500 x 700, stroke 600, cutting impact dampening, parallel support, Band unit: Band width 50 – 530, band thickness 1 – 6, max. coil weight 5 tons |
| 1 | Hydraulic try-out press, Schuler-Hydrap, type SH1500, pressing force 1500 tons, table size 5500 x 2000, stroke 1100, Parallel control, simulation option for mechanical presses, Band unit: Band width 150 – 1300, band thickness 0.75 – 6, coil weight 16 tons, retrofitted with transfer unit in 2012 |
| Quantity | Machine |
| --- | --- |
| 2 | 1-axis measuring instrument, TESA, MICRO-HITE 600 |
| 1 | Measuring and pre-setting surface, EROWA, with measuring microscope |
| 1 | 3D measuring machine, ZEISS, type Eclipse 2840-18, measuring range 1000 x 700 x 500, CNC controller, 3D measuring software HOLOS, U-Soft-Ultra |
| 1 | 3D measuring machine, make: Zeiss Contura G2, measuring range 2100 x 1000 x 600, CNC controller, 5-axis head with measuring sensor system, 3D measuring software HOLOS, U-Soft-Ultra |
| 1 | Optical 3D scanning, COMET L3D D 5M by Steinbichler Optotechnik, 3D digitiser with compact and efficient 3D sensor and BLUE LED illumination technology for efficient 3D data recording |
| 1 | Universal measuring instrument FARO GAGE PLUS |
| Quantity | Machine |
| --- | --- |
| 1 | Deep-draw simulation workplace Pam Stamp 2G |
| 3 | 3D CAD workplaces Siemens NX |
| 14 | 3D CAD workplaces CATIA V5 |
| 1 | 3D CAD workplace Pro/ENGINEER, version Wildfire 2.0 |
| 10 | 2D CAD workplaces HP ME10 |
| 2 | 2D CAM workplaces Mecasoft MECANIC |
| 3 | 3D CAM workplaces Work NC |
IGES 2D and 3D
DXF 2D
VDAFS 3D
STEP
ODETTE protocol
FTP server